Next Concert
SPRING CONCERT
SUNDAY 8th MARCH 7.00 PM
Chelsea Old Town Hall
Kings Road, SW3 5EE
Mozart, 'Don Giovanni' overture K. 527
Mozart, Concerto for Clarinet K. 622 (Soloist: Mick Barham)
Beethoven, Symphony No 7 op 92 in A major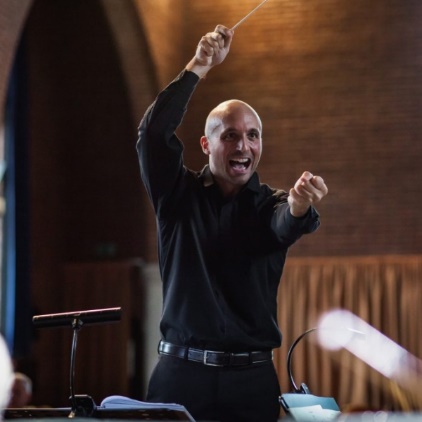 We are delighted to announce Claudio Di Meo as guest conductor for our next concert on 8th March 
Claudio is an award-winning conductor, pianist and composer known for bringing clarity, integrity and dynamism to his interpretation of wide-ranging repertoire.  He began his musical life in Italy, where he studied piano, composition and conducting, winning First Prize at the Italian National Choir Conducting Competition in 2011 and First Prize at the Enrico Caruso International Competition in 2014.  
Since moving to England in 2015, Claudio has been much in demand as a conductor, pianist, composer and music director.  He has worked with professional soloists and ensembles such as the London Classical Soloists with whom he won first prize in a conducting masterclass competition in 2018.  Claudi0 also has a high reputation as a conductor of non-professional ensembles and is currently musical director of the Hemel Symphony Orchestra.
In addition to conducting, Claudio is widely experienced in film music, musical theatre and thematic musical stage productions as both pianist and composer.  
About the KPO
The Kensington Philharmonic Orchestra, founded in 1965, is one of London's leading amateur orchestras. It provides opportunities for advanced players of all ages to perform works from the classical and modern repertoire, including pieces that are rarely heard in the concert hall.
We're always keen to hear from potential new members. We currently have vacancies for all strings and brass players. Please get in touch if you would like to sit in on a trial rehearsal!
SaveSave
SaveSave
SaveSave